Fairly unpleasant experience with my check-up yesterday. Longer than usual wait which exacerbated my crab anxiety as I've just dubbed it. Thinking about it afterwards with Kate my life now is generally OK as I bumble along with occasional anxiety 'spikes'. Keeping myself occupied and not allowing any protracted wallowing (allowing, wallowing, swallowing!). But then the check-ups come around and even though I don't, or try not to, consciously think about stuff, the day comes around and memories, thoughts, fears begin seeping through my brain. And as I've said and written before returning to the place where I was given the diagnosis just over a year ago acts as a trigger. I see Gordon who was on the New View programme but I can't bring myself to go over and talk, I imagine he's going through similar shit to me. I hide behind the Grauniad and hide from my anxieties getting lost in the written word. And we wait for an hour and three quarters. Eventually called in, a therapist quickly checks my throat/swallowing are OK, they are. She says "I didn't hear that" when I say beer tastes better. A registrar I've not met before comes in with a nurse I like, it is a little unsettling having different doctors. He looks around my mouth and throat with the big metal spatula things. Then the dreaded camera down the nose, it's down in my throat when the 'gag reflex' takes over and he has to take it out before having a proper look. So it has to be repeated, deep joy. Spends longer than normal looking, says it's OK except for some swelling, probably continuing effects of the radiotherapy. But of course I start to worry, what's the swelling about? I think that being in the aroused anxious state makes one more susceptible to any perceived threat. Also some weird defensive bollocks takes over the brain and I don't think clearly and don't get things clear with the medics. Kate as ever is great and reassures me that it's all OK. We go to Waitrose and I get distracted choosing wine and other epicurean delights.
So I'll get the camera footage for you Hector and you can add the soundtracks.
So thinking of the epicurean I made anchovy toast with boiled eggs the other day and it was delicious.
And my new team Porto stuffed moanrinho's lot yesterday, has a certain piquancy his team being beaten by the club that he first experienced success with.
Although I was a little depressed after England's defeat I feel a little zen-like consciousness developing and perhaps a moving on from my fervent tribalism towards the English rugby team. Not sure I actually want this to happen. It's a little sad when I point out players to others and say "I made my Harlequeen debut against his dad".
And it's fascinating seeing stuff unfold and evolve with Mr Jeremy with so many of the 'establishment', the 'elite', the 'commentariat' and the like unable to compute what has happened and what is happening. They are visibly unable to articulate what is happening as it doesn't fit their narrow narrative (ooh, a four letter alliteration). Last night one meme that survives in their desultory dna is that Labour have to win over tts to win the election. This is bollocks. If Mr Jeremy and co can win over young folk, previously disillusioned lefties who gave up on new labour, ukip voters, the vast majority losing out not only to the austerity bollocks but the whole globalneoliberalkleptonic bollocks and maybe even some Scots then they won't need any tts.
And land reform, we must discuss this soon Mr Angry and send off our manifesto to the listening Mr Jeremy. 'Fraid I agree the 'establishment' will be dusting off their military coup plans. Maybe that's what the tts and the like mean when they say our security is at risk if Mr Jeremy gets power. Remember I do supply pitchforks.
Now I know Mr Jeremy wants a kinder world and is doing prime minister's questions differently but I for one will titter a little to hear a few oinks while condom features is talking.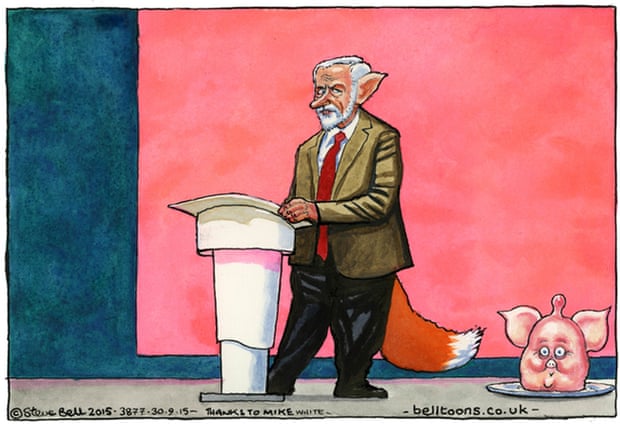 Keep on keeping on, love Duncan.