Just playing Tom Petty, initially played Refugee in response to reading about the refugee crisis. Condom cameron's pathetic 'leadership', the likes of the grinning gargoyle (haven't written that for a while) sticking in their racist bollocks, the appalling language used by the right wing rags, the simplistic racist bollocks that folk feel free to spout. Another good reason to vote for Mr Jeremy who's already blasted condom's 'wholly inadequate response'.
So Kate and me still suffering from some viral infection although we're both slowly recovering. I've had it for 3 weeks now and of course wonder whether my 'compromised immune system' is playing a part. It's also partly due to our Porto holiday, I'm afraid holidays often don't do what we wish them to do yet we're driven (manipulated?) to have them. We're already planning next year's affair and desperately trying to not make the same mistakes. Do others experience this? We're off to a spa this weekend in Stratford to hopefully help recuperate. Booked the last 2 tickets to see the RSC do Volpone, a play I've not heard of. The tickets were only £5 but we'll be standing 'in the gods'. The plays by Johnson (not Don) and is a 'merciless satire of greed and lust', prescient for our klepto bedevilled times.
So I was looking at Steve Bell's recent cartoon of S&M osborne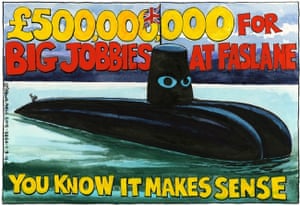 and apart from marvelling at his brilliant caricature (I once listened to Gerald Scarfe describe how the best caricaturists stretch particular aspects of a person as far as they can without 'breaking' i.e. so you don't know who they are, but for many just looking at the absurd submarine you immediately know it's osborne) I wondered why I call him S&M and Bell draws him in S&M gear? A little research soon revealed that he had a penchant for drugs, prostitutes and through that S&M. Here's an interview with a Natalie Rowe: https://www.youtube.com/watch?v=xlqT8WyZKfA   What, amongst many things, bothers me is why this hasn't been plastered everywhere, why didn't coulson and co go for him like they do others, and then coulson is employed by condom, and he gets done for phone hacking but brooks doesn't? Anyway there's still some faint hope that the CPS will do the murdochs.
So happened to catch the end of a programme about waves and this bloke equates a wave crashing on the shore with a life ending. A wave has all this energy which travels so far through an ocean ending on a shoreline where it explodes in a foaming crash as the energy is released in various ways. Likewise a body that was full of energy suddenly dies and the energy is released, again in various ways (I'm sure there's entropy involved here). I feel a poem coming on.
Anyway we were lying on one of the many Porto beaches and the Atlantic waves were noisier than normal so I went and sat on a nearby rock and watched them a while. Up close they were pretty awe inspiring, so much energy released. Not far away was a pier with a few people stood on it and the waves smashing into it. I went to it and stood just above some rocks that were causing the waves to explode holding on to some railings. Within a few minutes a large wave crashed over me, I gripped the railing tight and whooped in exhilaration. I was soaked and grinning like the idiot I am.
Felt a little weird for a few days now, it's some sort of post trauma thing I think, certainly post holiday trauma! But also it's the beginning of a new academic year and for the first time since 1979 I'm not involved (apart from a year's travelling). Like a wave crashing on a shore my teaching career has been spent and all the energy I expended has dissipated. I like to think that over the years I helped some young folk and their families. Probably some mixed reviews from my various teaching colleagues. I'd love to have been a fly on the wall of one staff room after I'd left, my leaving present to them was a life size papier mache model of me reading the Grauniad which I left in the corner of the room. What a twat. They probably had a ceremonial burning.
Keep on keeping on, love Duncan.